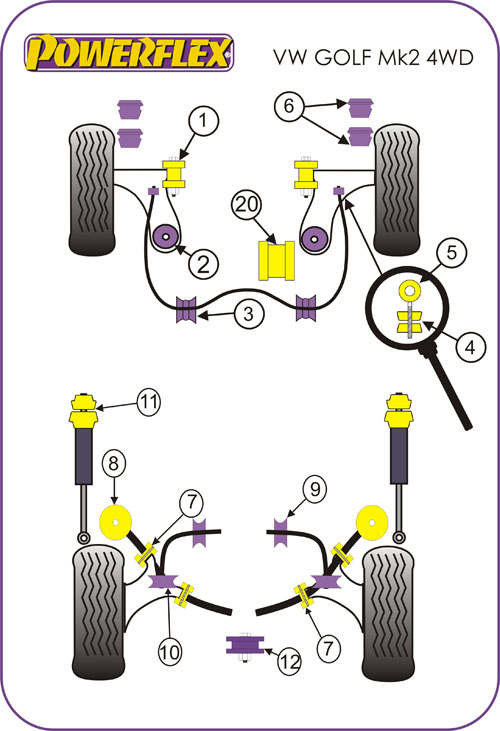 Druhý Golf sa objavil v auguste 1983. Rázvor sa predĺžil o 75 mm, dĺžka o 180 mm a šírka o 5 mm. Vozidlo bolo ťažšie o 120 kg. Druhá generácia je tiež známa tým, že sa v nej prvýkrát objavila výkon turba. Vpredu nezávislé zavesenie McPherson, vzadu nápravu s variabilnou tuhosťou. Pruženie zabezpečovali vinuté pružiny s teleskopickými tlmičmi. V auguste 1983 sa objavila verzia Syncro s pohonom 4×4. Odvodený sedan bol predstavený v januári 1984 a niesol opäť označenie Jetta. V roku 1989 prešiel Golf faceliftom keď získal väčšie nárazníky. Celkovo bolo vyrobených 6,3 milióna vozidiel druhej generácie, pričom v júni 1988 bol vyrobený desaťmiliónty kus typu Golf. Konkurentmi druhej generácie boli vozidlá Opel Kadett E, Ford Escort, Nissan Sunny,Mazda 323, Fiat Ritmo, Fiat Tipo, Peugeot 309 a Audi 80.
Pôvodné gumené silentbloky Volkswagen Golf často spôsobujú "búchanie" od náprav pri prejazde nerovnosťami. Výmenou silentblokov na Volkswagen Golf za polyuretánové získate presnejšie ovládateľné vozidlo pri zachovaní takmer rovnakého komfortu ako pri gumených. Nie je vylúčené, že pôvodné Volkswagen Golf silentbloky sa po 10 rokoch rokoch doslova roztrhnú alebo "rozsypú". Skontrolujte svoje nápravy alebo rovno preventívne objednajte polyuretánové riešenie.
The 2-generation Golf was launched in 1983. In addition to the traditional front-wheel drive, a 4-wheel Syncro was also available. The top version of the G60 limited had 210 horsepower
STRONGFLEX bushings for swagen Golf II Country-Syncro-Rallye-4x4
STRONFLEX bushings are made in two variants: red and yellow . Hardness of the red ones is 80 Sha and they are meant to be a sportier replacement of OEM bushings . The yellow ones are 90 Sha and their priority is handling over comfort. They are ideal for use in motorsport, drift, and dedicated track cars. Despite this, some bushes are availible in yellow variant only. This usually happens when oem bushings are made of hardened rubber.
Powerflex bushings for swagen Golf II Country-Syncro-Rallye-4x4
Polyurethane bushings from PowerFlex are made in several colour and hardness variants. They are standardly made in 80 Sha hardness and are violet in colour. Engine bushings are a little bit softer. The black edition bushings are the hardest on our website - 95 Sha. Powerflex bushings for swagen Golf II Country-Syncro-Rallye-4x4 along with STRONGFLEX bushings cover customer needs for 95% cars on our road.
Some of car descriptions are from www.wikipedia.org